Good attendance at school plays a vital role in supporting children to make good progress and have positive relationships with their peers and adults. Our current guide to good attendance can be found below along with expectations around punctuality and absence requests.
Attendance at Buckfastleigh Primary School
At Buckfastleigh Primary School, the regular attendance of pupils is always a priority focus for the school. We encourage all students to maintain excellent attendance with 96% considered a good level. Attendance falling below 95% will begin to cause concern in relation to the impact on learning and progress with 90% constituting up to three weeks off school over an academic year or 75 hours of learning time missed. Please see our Good Attendance guide in the diagram below.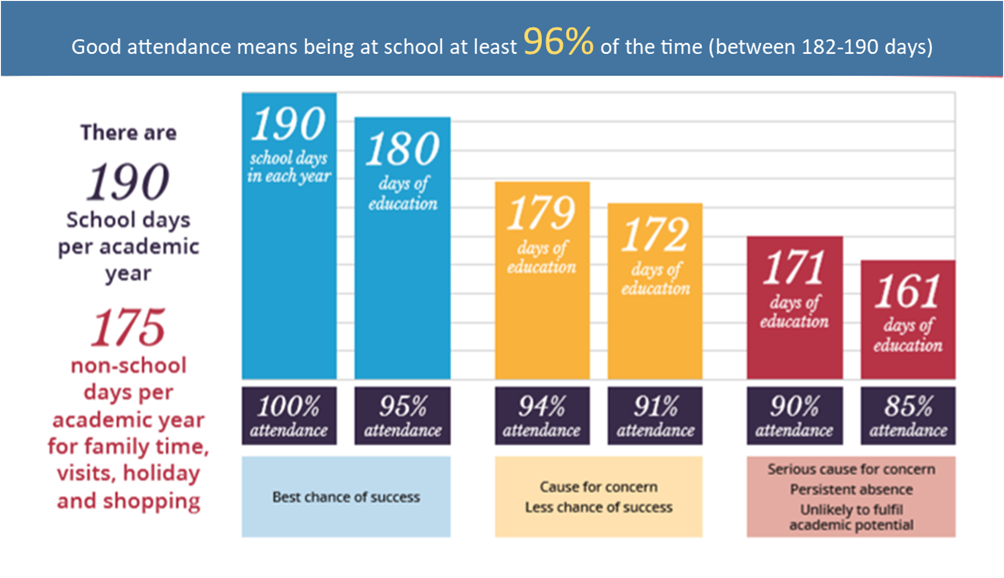 REPORTING DAILY ABSENCE
We understand that there may be times during the year when children are absent from school. For example, when they are too unwell to attend school. Each day of absence must be called into the school office by 9:30am in the morning. This enables us to establish quickly why a child is not in school and prevents us from raising safeguarding concerns or wasting time making unnecessary phone calls. Absence should be called into school on a daily basis unless we know the specific reason why a child will be off for more than one day.
Parents/carers can ring the office on 01364 643304, email on admin@buckfastleigh.devon.sch.uk or use Class Dojo to message Kirsty in the school office. Thank you for your help with this.
WHAT WE DO WHEN ABSENCE INCREASES
The school attendance team will be monitoring attendance on a regular basis. When a child's attendance drops below a certain level, you could receive a letter from the school highlighting our concerns. The process we follow is shown in the table below.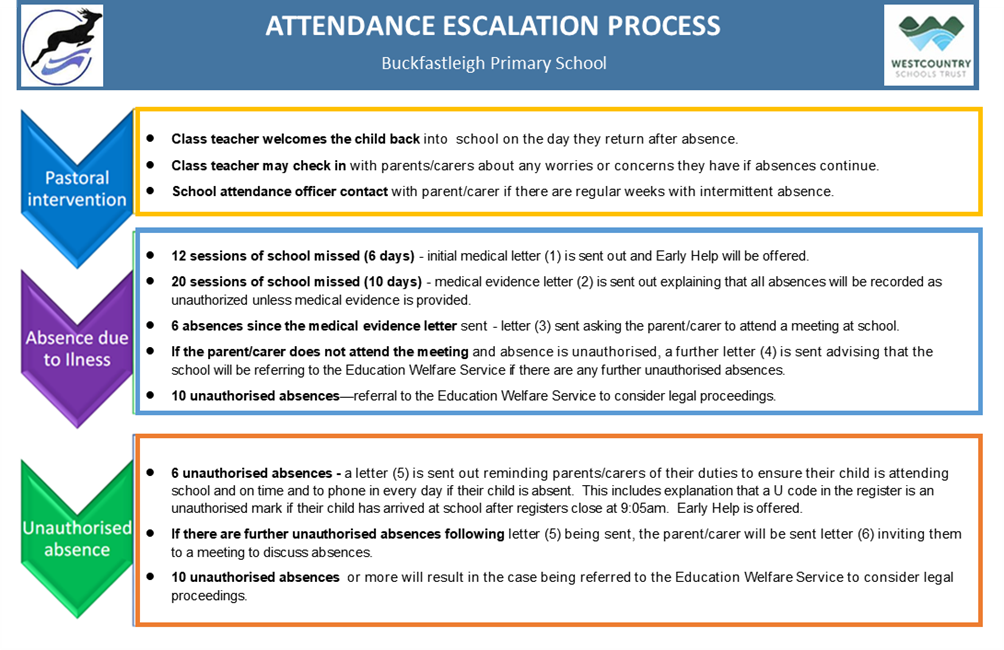 PUNCTUALITY
It is important that all pupils arrive at school punctually so that the day can start well and registration is completed quickly. The start of the day is a very important time for the children as it gives them an opportunity to catch up with friends, reflect on feedback from their teacher about their learning and check in with adults. Regularly not being ready for the first lesson of the day can have a negative impact on a child's progress and peer group relationships.
We aim to open the gates at 8:35am and registration begins at 8:45am. Our school gates close at 8:50am and any children arriving after this time will be marked as late. Any children arriving at school after 9:05am when registration closes will be marked as a U code, which is an unauthorised absence.

REWARDS FOR ATTENDANCE
Children will be rewarded for good attendance each half term with 98% and above attendance (that half term) meaning a certificate in assembly and 10 Class Dojo points. Any children who have 98% and above at the end of the year will receive a special prize.

ABSENCE REQUESTS
Unfortunately, we are only able to authorise exceptional circumstances for absence requests. This is a legal requirement for all schools. We are unable to authorise any requests for holiday during term time. If absence is taken without authorisation by the school, this will lead to further action by the Education Welfare Service and could incur a fine (please see the end of this letter for further information and guidance around unauthorised absences). We would therefore encourage you to communicate closely with us if you do need to apply for an exceptional absence. Request forms for exceptional absence can be collected from the school office or found on the Devon County Council website (click on the link below):
https://devoncc.sharepoint.com/:w:/s/PublicDocs/Education/EXNZxVGkTXhMvCkRh1cdNpIBGHRE0I4ThMQCxfkY718b5g?rtime=EwSQnsNv2kg

S2 forms should be submitted at least three weeks in advance of the absence request period to guarantee it is processed in time. If you send an email request for exceptional absence, we will not process this unless you have filled in the Devon S2 Absence Request Form. Completed electronic S2 forms should be emailed to admin@buckfastleigh.devon.sch.uk

We would like to thank all parents and carers for your continued support and should you have any questions, please do not hesitate to contact the school.


Guidance around Unauthorised Absence
(taken from the S2 Devon County Council Absence Request Form).
Parents should ensure that they know whether the absence will be authorised or not before they go away as an unauthorised absence will likely result in a penalty notice or court summons being issued to each parent for each pupil affected. It is therefore recommended that this completed form is sent into the school at least three school weeks before the intended absence.
If this request is unauthorised by the school, a penalty notice may be issued by Devon County Council. A penalty notice offers a parent the opportunity of dealing with a potential offence without going to court, by paying a penalty. If parents can't afford to pay, or for any other reason do not take the offer of paying the notice within a set time, then the case will proceed to a magistrates court. The provision of penalty notices is set by Regulations and the amount of the penalty, timeframe for payment or payment method are not able to be varied by Devon County Council.
Parents should note that only one penalty notice per parent per child will normally be issued within a two-year period. Any second 'offence' within a two year period will be referred straight to court.